Preparing Artwork Files for Print
Ready to get custom shipping boxes that will delight your customers? Here's a straightforward guide for how to prepare your logo or artwork files to ensure your boxes print perfectly.
Note: We print exactly what you send us and we don't offer design services at this time. Following these guidelines will help you make sure your file is ready for print and prevent delay or cancellation of your order.
How big does my logo file have to be?
While we currently accept all artwork formats, there are some file formats that will look better than others printed on your boxes. We want to make sure your boxes are printed at the highest quality possible. Images uploaded that are smaller than 1800px wide or less than 300 dpi will not print as sharply as a larger file. We recommend keeping your files less than 30MB.
Vector formats are best suited for printing. Best file formats are:

We can accept other file types, but cannot guarantee the sharpest print:

If your logo is white, it's important to note that our printing process cannot support spot-color applications for white ink at this time. White elements on your logo will not print onto your box, but instead show as the cardboard color. White registers with our 4-color printer as zero values and the printer does not use any ink in that space. Here's an example: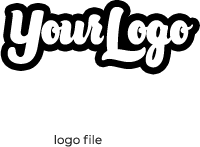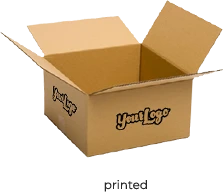 On cardboard, color isn't necessarily better.
Color looks great on our mottled white boxes, but when printing on kraft brown cardboard, some colors will unfortunately desaturate. Cooler and more vibrant colors will print crisper than warmer or pastel colors.
So while some colors may look great on your website, it might be in your brand's best interest to choose a black version of your logo to avoid looking off-brand. Here are a few things to consider when choosing between a black logo or selecting the color upgrade for our kraft brown boxes:
Black ink looks best on kraft
Higher saturation and deeper colors, include purples, greens and deep blues print well
Avoid red if you are hoping for a true bright red
Yellows and oranges won't print as vibrant and can look faded
Photos of your logo printed on something else
Copyrighted material
File with fonts designated for 'personal use'
Business Cards or photos of business cards
Flyer and marketing graphics or photos of graphics
Web files or screenshots
Busy artwork around your logo
Unpackaged font files
Logos that include:
white areas or elements
gradients